News
Posted Jan. 8, 2011, 2:25 p.m.
iPod. Photos: Beckna.
From OnBoard Global Snowboarding:
Writing a news piece with the whole of Switzerland partying in front of you is a bit of a challenge, but of course they have more than reason to go crazy today - the TTR 6star O'Neill Evolution pipe contest finished with an all Swiss podium, consisting of Christian "Hitsch" Haller, Iouri "I-Pod" Podlatchikov and new up and coming rookie Jan Scherrer.
Already in his first run, new talent Jan Scherrer impressed with a huge BS 9 at the very first hit and he continued riding like that. Aged sweet 16, he already got cripplers, cab 7s and 9s on lock as if he was born doing them and bagged himself a well deserved 3rd spot at this TTR 6Star event.
But also I-Pod knew how to impress today, with super fast spinning and precise riding, that kept him in top spot until the very last minutes. Especially his second run including a Crippler, Double McTwist and FS 10 got judges and spectators hyped likewise. It wasn't meant for him today though. As after snapping his board desastering on the coping in his second run, fellow Swissman Hitsch Haller busted out BS 5, FS 10, Cab 10, FS 9 run 5 minutes before the end, overtaking I-Pod by 0.25 points, making the all Swiss podium come true and moving him up to 3rd place in the overall TTR ranking. Instead of hard feelings you only got super stoked smiles, enthusiastic hugs and combined signing of Swiss flags from the spectators.
To Read More, go to http://onboard.mpora.com.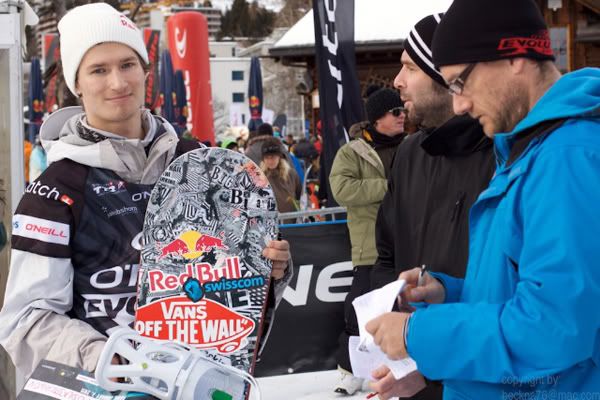 ARCHIVE
2014
2013
2012
2011
2010
2009