News
Posted Nov. 12, 2010, 12:01 a.m.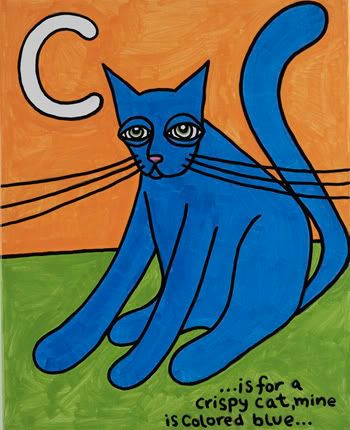 Art By Jamie Lynn
Holidays are our favorite time of the year. A time of magic when the air is crisp, homes are gussied up with strings of twinkling lights, families come together by the tree, eggnog and cookies await Santa coming down the chimney, and the joys of giving and togetherness makes us kids again. For our first Christmas in Laguna Beach, 210 AR4T Space and The JLA Project have commandeered the help of artist and legendary snowboarder Jamie Lynn to transform the gallery into a wonderland of art created especially for children. Together with Jackson, WY big mountain rider Bryan Iguchi, Newport Beach hometown hero Ben Brough, and Seattle based painter and sculptor of skateboards Brennan Coyle, 210 AR4T Space will be home to a living children's book full of letters, numbers, characters, color, and poetry.
The gallery will open on Saturday November 20th with art from the four artists, and will transform over the weeks toward Christmas with children's art mornings and the addition of their art to the gallery.
For dates and times, please visit www.AR4T.com
ABOUT JAMIE LYNN:
As a skate grom growing up in Auburn, a suburb of Seattle-Tacoma-Bellevue metro in Washington state, Jamie Lynn was drawn to skateboards designed by pros like Mark Gonzales, Neil Blender and Chris Miller – guys who used their pro models not only as vehicles for self-expression with how they rode them, but also with the artwork they put on them. So when Jamie had the opportunity in 1994 to have his first pro model through his longtime sponsor Lib Tech, he saw no better way to carry on the same kind of tradition in snowboarding than to do his own graphics.
Through the process of designing board graphics, as well as contributing to the creative energy wheel at Volcom, Lynn developed a certain style of artwork he describes as "kind of a strong outline, simplistic fill-in colors, easy to digest and absorb." The Volcom Artist Series launched featuring one of Jamie's paintings as one of the first for the special clothing line, and over the years while spending time in Costa Mesa, California, he's been seen lurking in Volcom cubicles, helping with ads, window displays and indoor mural design.
Art undoubtedly remains an important part of Jamie's life even with an active schedule that includes international travel and playing music with Kandi Coded, a Seattle-roots-influenced, grungy punk band that Jamie joined as vocalist/guitarist in 2004. He continues to set aside time to focus on blank canvases and come up with two or three pieces a year to add to his own personal collection or to a small number of friends' collections.
At 37, snowboarding remains a top passion in Lynn's life as he rides as much as possible in his backyard mountains – Baker, Snoqualmie, Stevens and Crystal – where, if he can still do drawn-out, style-y methods and nice frontside 360s, boned-out, he'd be a "happy man for the rest of my life," he states simply.
Even though the unassuming Lynn, a ripper across multiple media – canvas, snow, ocean, stage, skateparks – would say he's never considered himself an accomplished artist ("I mean, I used art electives in high school just to kind of get through it"), his influence has spread deeper than he may realize, and his desire to share that creativity with younger generations and spread the stoke remains evident in his latest works.
ABOUT 210 AR4T SPACE:
A collaborative art experiment between The JLA Project, art advocate AR4T, and artists, photographers, designers, forward thinkers, and community organizers of today who are shaping the face of tomorrow. 210 AR4T SPACE is born from the world of youth culture with a mission to peel back layers and give exposure to the fine arts that dwell within.
"ABC's and 123's" - Artwork by Jamie Lynn, Bryan Iguchi, Ben Brough, and Brennan Coyle, runs November 20th through December 24th, 2010, at 210 AR4T SPACE, 210 North Coast Hwy. (between Broadway and Cliff), Laguna Beach, CA. The opening reception, on Saturday November 20th from 6 to 9pm, is free and open to the public. Original artwork and prints are for sale. Regular gallery hours: Wed-Sat 1 to 6pm. www.AR4T.com.
ARCHIVE
2014
2013
2012
2011
2010
2009