News
Posted May 4, 2010, 11:42 p.m.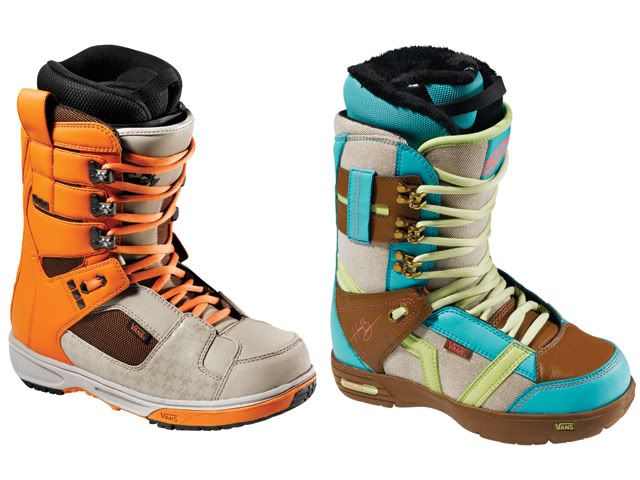 Andreas Wiig III Colorway (Orange/Grey): $249 & Hi Standard Colorway (Gum/Hana): $169
Mike Lewis over at Transworld Business did an interview with Vans Category Director Jared Bevens a little while back about next season's line and how Vans fits in. It's an interesting read with some behind the scenes info on the boot program, check out the full story over transworld.net.
What are the biggest trends shaping the hardgoods market for next year?
Reverse camber compatible snowboard boots.
How have you responded to the industry-wide oversupply of last season?
Produce what you sell. Wouldn't it be nice if the snowboarder was actually incentified to get into their local shop and get that great new product early because it might actually sell out if they don't.
How are you working with retailers to help ensure strong margins?
Not over supplying. Making great compelling product backed by a comprehensive marketing program and service that helps maximize sell through during the prime full price window.
How do you see the hardgoods marketplace evolving next year?
Likely to see continued consolidation at all levels.
What are the biggest changes you've made to your hardgoods business model in the last year ?
SKU efficiency. Every item addressing a specific need and having a compelling reason for being.
What opportunities do you see for hardgoods sales? (are you focusing more on kids, women, rentals, core retailers, chains, Internet, entry level product, high end, split boards, etc., etc.)
Innovation that improves the experience to build excitement, continues to give snowboarders a reason to buy or upgrade and helps improve the rider retention rate. Cost of participation continues to skyrocket. We need lower cost options that increase the demographic pool of potential participants instead of looking for more dollars out of the same group.
ARCHIVE
2014
2013
2012
2011
2010
2009