News
Posted Dec. 8, 2010, 12:01 a.m.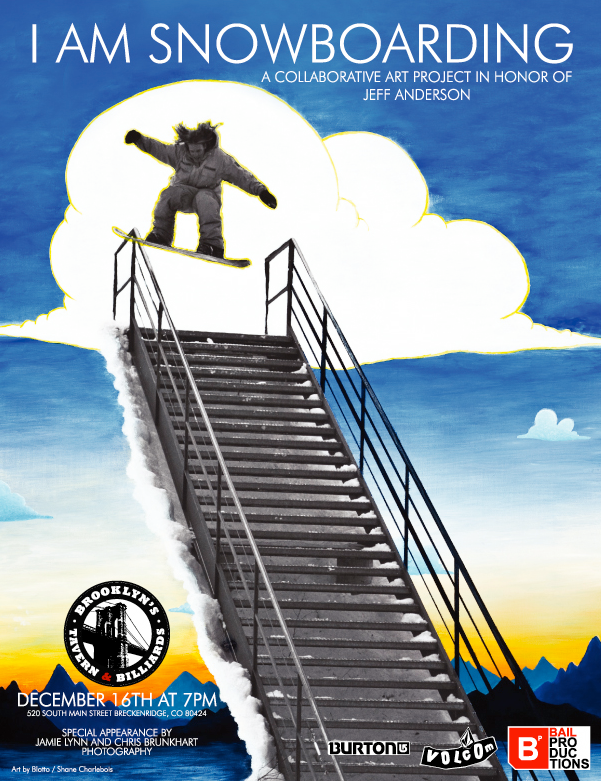 THURSDAY, DECEMBER 16th.
DEW TOUR: BRECKENRIDGE, CO
BROOKYLN's TAVERN and BILLIARDS – 520 SOUTH MAIN STREET
I AM SNOWBOARDING ART with SPECIAL GUEST CHRIS BRUNKHART.
ABOUT I AM SNOWBOARDING: Traveling art exhibit in honor of Jeffrey Lin Anderson, as seen on FUEL TV, San Francisco Channel 2 News, Portland KOIN Channel 6 morning news, etc. and now featured in Unbound magazine, is "one of the most original events in snowboarding and art." In honor of what would have been Jeff's 30th birthday, a group of 44 world-renowned photographers and artists have come together to pay tribute to Jeff, and to raise money for the JLA Memorial Fund. Each image started with a photo of Jeff that was captured by someone who knew him well. The photo was enlarged onto canvas, and a separate artist then painted, or used a medium of his choice to create a unique collaborative work of art. The resulting pieces are one of a kind. The partnerships in this project are a tribute to the depth of the snowboarding, skateboarding and art communities. For info please visit IAMsnowboarding.com.
ABOUT AR4T: Artists Republic for Tomorrow - is an art advocacy program where progressive creatives born from youth culture have a place to show their work and be supported with assistance in public outreach via newsletters, press, events. AR4T is a growing family, partnering with people who are working hard to make life visual and without boundaries. Our mission is to foster community spirit by creating relationships through art. It is our hope to plant our seed amongst a garden of others and provide a little more water to help this forest grow. The New Community Garden.
ABOUT THE JLA PROJECT: The JLA Project is a non-profit organization created in 2003 by Jeff Anderson's family to provide skate parks, art spaces and the tools that support children and young adults as they pursue their dreams in art, sport, and education. The JLA Project funds The Brothers Skate Park, 210 AR4T Space, and I Get By With A Little Help From My Friends programs.
For more info, check out http://www.iamjla.org
ARCHIVE
2014
2013
2012
2011
2010
2009